Welcoming City helps businesses recruit and retain the New American workforce, and make the work environment immigrant-friendly.
Recruitment Services
We find candidates that are dependable, responsive, skilled, and motivated to succeed. Our candidates bring diversity and a fresh point of view to your business solutions.
Welcoming City delivers value by:
Identifying hiring needs
Searching for and identifying viable candidates
Checking references
Providing job readiness screenings (background check, E-verify, drug test, skill tests)
Scheduling face-to-face interviews
Providing a candidate replacement guarantee
Temporary Staffing
Welcoming City offers its clients access to a workforce with great professional potential and an immense desire to work – New Americans.
We are unique. We remove the barriers to employment for New Americans. Our employees take advantage of low-cost transportation, on-the-job coaching, ESL instruction, and staff development sessions.
Our clients receive:
Flexibility to increase and decrease the workforce numbers on demand
Employees screened, tested, and trained to meet your needs
On-site management of large groups of employees
Exceptional customer service
Freedom from payroll and benefits for temporary workforce
Options for hiring our temps on permanent basis
Retention Services
By providing the following services, Welcoming City helps recently migrated workers to integrate seamlessly into a work environment and stay there without problems:
Workplace ESL
Language sessions customized to prepare employees for industry demands. We provide help with conversation, reading, writing, pronunciation.
Cultural Competency Sessions
Information sessions designed to address the knowledge gaps in such areas as:
American cultural and workplace norms (for foreign-born associates)
Non-Christian religious norms and accommodation options (for US-born associates)
Staff Development Sessions
Information sessions and training to improve staff knowledge and skills in such areas as:
Customer service mindset
How to be a great team player
New Resident Services
Welcoming City provides new residents of Columbus help with securing:
Housing
Transportation
Childcare provider
Healthcare provider
Utilities provider
Banking services provider
Why Hire New Americans
New Americans are eligible to work in the US, drug-free, and have no criminal background. The population of New Americans in Columbus is steadily growing. By opening doors for the fastest-growing workforce, smart employers set up their businesses for success in the immediate future. Here are some statistics on how New Americans benefit our workforce and society:
$1.6 billion
is the total contribution by refugees in Franklin County to the Columbus metropolitan area economy
7,851
jobs are created by local, refugee-owned businesses in the Columbus metrpolitan area
41.8%
of refugees 18+ are attending or have graduated from college, compared to 43.0% of Franklin County residents
The Impact of Refugees in Central Ohio report confirms that the growing new American populations contribute to the cultural richness and enhance the economic growth and development of Columbus.
- Michael B. Coleman, Mayor of Columbus, Ohio
Case Study
Knowlton Development Corporation
As part of a pilot study, Welcoming City partnered with Knowlton Development Corporation (KDC) to help with an insufficient staffing issue during peak production season. KDC, a contract manufacturer and custom formulator for the consumer goods industry, made a strategic decision to concentrate on attracting an immigrant and refugee workforce to resolve the staffing shortage, but encountered challenges with diversity and integration.
Welcoming City was able to help.
The result
KDC reached their goal of achieving full staffing for the peak season. During the 12-week-long pilot, Welcoming City staffed the first and second shift with 49 temporary employees. Our employees performed nearly 8,500 work hours and 7 employees went on to apply for permanent full-time positions.
Then we went beyond staffing. Welcoming City conducted an information session concerning the religious accommodation of Muslims in the workplace. As a result of the diversity integration session, KDC made decisions in relation to production-safe female attire, as well as prayer time and location accommodation.
The financial results were better than breakeven when incorporating the one-time startup costs. KDC requested diversity integration consulting on an ongoing basis. Welcoming City's temporary employees are invited to return to KDC in the next peak season, which will begin August 2018.
Be Our Next Success Story
With the overwhelming success of our pilot, Welcoming City is looking to partner with more employers to deliver efficient New American staffing and diversity and integration services.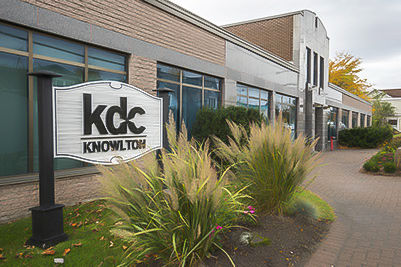 "Our pilot with Welcoming City was very successful and we were proud to be part of their start-up."
— Stacie Trace, HR Director at KDC Columbus